Thursday, February 5, 2009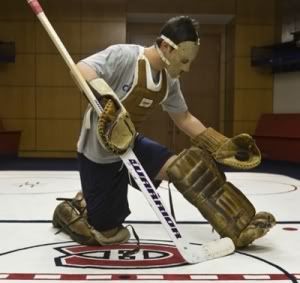 Sorry for three straight posts mentioning Carey Price, but this is just so amazing.
Habs Inside/Out
has an article and several pictures of the Montreal goalie wearing some Jacques Plante era equipment, including a replica mask.
"But the mask … now this is something truly special.
Price cradles the replica of the fibreglass mask Canadiens legend Jacques Plante wore into a game for the first time on Nov. 1, 1959, forever changing the face of goaltending. He rolls it around in his hands, studying every bump and scratch, then wrestles it on, adjusting the elastic straps before rapping his knuckles against his cheek and wincing at the impact of just that."
The full article can be found here, and the full gallery of photos is here.
Posted by

Stephen
at 2:58 PM
No comments: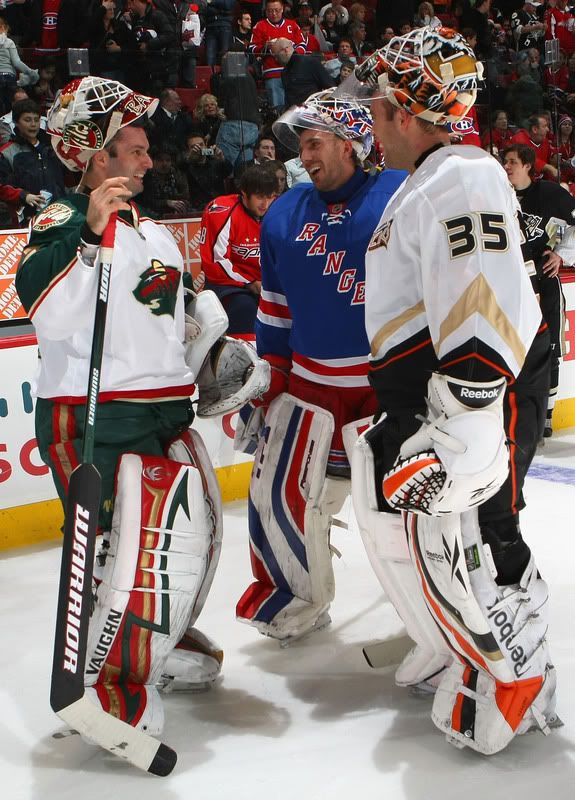 Goalies at the All-Star Game get me mad. Perhaps it started when Khabibulin didn't recieve the MVP award a couple of years ago. But the real reason is how stupid they look. When you take your teams pads and masks, then mix in the all star jersey, the finished product usually looks like
this
.
This year seemed to be better then usual.
Backstrom
's pads had a little green in them, but for the most part, the colors were red. Tim Thomas looked the most out of place, and JS
Gigure
followed his lead, while Roberto
Luongo
was on the fence.
The "Best Dressed" has got to be either the hometown boy,
Carey Price
, or the Rangers
Henrik Lundqvist
.
This
is what an All-Star goalie looks like
My question is, why can't goalies have an all-star mask? If Mike Smith has a Saw mask, I don't see the problem in having one commemerating something more important.
Posted by

Stephen
at 2:18 PM
No comments: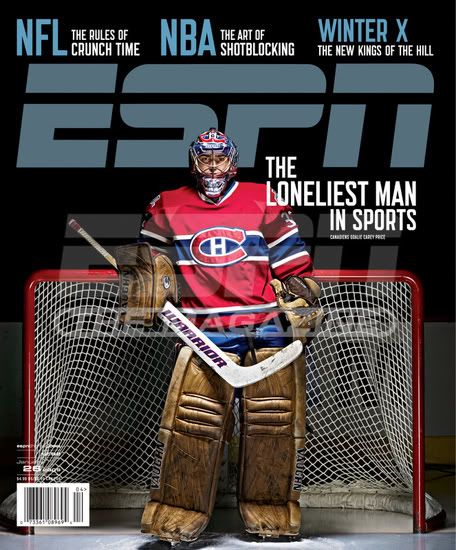 I got home a couple of weeks ago, and was pleasantly surprised at the latest ESPN the mag in the mailbox. Carey Price in all of his glory. Hockey is rare enough on sports magazine covers, but hockey goalies are even rarer.
Anywho, ESPN had a video of the photo shoot (below), and included this beauty in the
article
.
Posted by

Stephen
at 2:13 PM
No comments:


Thursday, January 22, 2009
In honor of the impending Super Bowl Sunday, I give you Marc-Andre Fleury:


Yeah, yellow doesn't really go with baby blue. Cool, nonetheless.
Posted by

Stephen
at 11:53 AM
No comments: